Documentary, 17 min. Year: 2004
Cuban Jesus Perdomo Triguero has turned the spinning of petrol barrels into an acrobatic art form. Through his performances Jesus supports himself and his family. The film follows Jesus' trek through Havana from morning until night.
The journey resembles a pilgrimage, as the compassionate and sensitive Jesus stops to meet many outcasts of his society.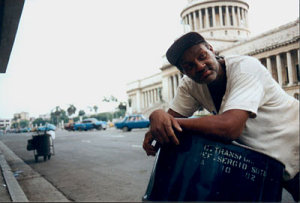 FESTIVALS
Selected for 45 international film festivals around the world, including:
- Magma Short Film Festival, Italy, 2004
- Cracow Film Festival, Poland, 2004
- Melbourne Film Festival, Australia, 2004
- Cork Film Festival, Ireland, 2004
- Visions du Réel: Festival International de Cinema, Switzerland, 2004
- Woodstock Film Festival, USA, 2004
AWARDS
- Best Documentary, Magma Short Film Festival, Italy, 2004
- Diploma of Merit, Cracow Film Festival, Poland, 2004
- Coup de Coeur Prize, Festival du Film Insulaire, France, 2006
CREW
Director and screenwriter: Arto Halonen
Cinematography: Arto Halonen, Jari Pollari
Sound recording: Evelio Manfred Gay Salinas
Music: Tuomas Kantelinen
Editor: Arto Halonen
Editing assistant: Sanna Liinamaa
Production manager: Toni Gonzalez Martin
Transport: Antonio Casudo
Production assistant: Eva Romero Paavola
Translations: Sandra Monagas, Eva Romero Paavola
Co-production: Sari Volanen / YLE co-productions
Production support: Miia Haavisto / The Finnish Film Foundation
Producer: Arto Halonen
Production company: Art Films production AFP Ltd